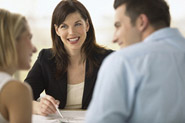 Cornerstone First Financial is a leading mortgage broker in the Washington D.C. Metropolitan Area. Founded by Mark Livingstone in 2001, this Christian owned company provides residential mortgage solutions to individuals and families who want to refinance their existing mortgage or purchase a new home or investment property.
Driven by strong values, consistent work ethics, and the desire to improve lives by creating financial stability, the team at Cornerstone First are your friends in financing. Our loan officers are adept at identifying the specific financial needs of each client, whether they are a first time home buyer or an existing homeowner wanting to consolidate debt through refinancing. They work together seamlessly with the processing department to deliver exceptional customer service throughout the entire loan process. Having aligned themselves with more than thirty lending institutions to create a comprehensive portfolio of residential mortgage solutions, Cornerstone First Financial offers the most competitive loan programs and interest rates in the industry.
Need a rate quote? Request a free rate quote here.
CONTACT US to speak to one of our knowledgeable mortgage loan officers or to receive more information on our mortgage loan products and services.