What is the HARP 2.0 Home Affordable Refinance Program?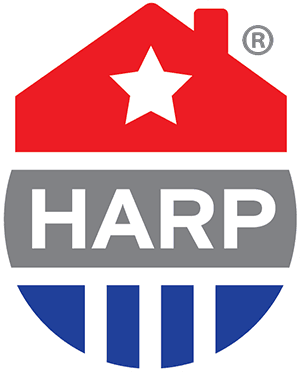 The Home Affordable Refinance Program was created in March of 2009. HARP is a federal government program designed to help 5 million underwater or near-underwater homeowners refinance into a fixed loan with a lower monthly payment.
However, as of August 31st, only 894,000 borrowers have refinanced through HARP.  On October 24, 2011, President Obama announced an overhaul to the HARP program with the intent of reaching more underwater homeowners.
The expanded HARP program – also referred to as HARP 2.0 – took effect on December 1, 2011 for borrowers with a loan-to-value ratio of less than 125 percent and in the first quarter of 2012 for borrowers with a loan-to-value ratio of greater than 125 percent. The program was extended to Dec. 31, 2013.

What is the difference between the old HARP Program and HARP 2.0?
Some of the major changes to the HARP program include:
No or less strict underwater limits: Borrowers may be able to refinance even if their homes have fallen significantly invalue. Previous loan-to-value limits were set at 125 percent.
In some cases, eliminating appraisals and underwriting: Some homeowners will not have to get an appraisal or have their loan underwritten, making their refinance process smoother and faster.
Modified fees: Certain risk-based fees for borrowers who refi into shorter-term loans will either be eliminated or modified.
Extended deadline:  The end date to get a HARP refinance was extended to December 31, 2013.
What are the requirements to qualify?
You must meet all of the following requirements to be eligible to refinance under HARP.
Your mortgage must be owned or guaranteed by either Freddie Mac or Fannie Mae (check your loan via the links below);
You must have closed your current mortgage on or before May 31, 2009;
You cannot have refinanced under HARP previously unless you have a Fannie Mae loan that was refinanced under HARP from March-May, 2009;
You must be current on your home loan;
You cannot have made a late payment within the past six months;
You cannot have made more than one late payment in the past 7-12 months;
Your loan-to-value ratio must be greater than eighty percent; and
Your loan must fall under the current conforming loan limits. A conforming loan is one that falls at or below the maximum finance-able amount allowed by the FHFA. In general, the maximum amount financed is $417,000. However, in high cost areas (such as most counties in the DC Metro area) defined by the FHFA, the maximum amount is $625,500.
How do I find out who holds my mortgage?
To be eligible for the HARP program, your mortgage must be held by either Fannie Mae or Freddie Mac. We encourage you to check, as most homeowners do not know if their loan is backed by Fannie or Freddie. To "look up" your mortgage, check Fannie Mae. If you can't find your mortgage there, check Freddie Mac.
HARP FAQs
What is Fannie Mae or Freddie Mac and what is the difference between the two?
Fannie Mae and Freddie Mac are two separate government-sponsored enterprises (GSEs) that purchase and guarantee roughly half of all outstanding mortgages. In layman's terms, banks and lenders make the loans to borrowers and then turnaround and sell them to Fannie Mae or Freddie Mac. This is a very common practice and most banks sell many of the loans they make to Fannie Mae or Freddie Mac. However, not all loans can be sold to Fannie Mae or Freddie Mac, including Federal Housing Administration (FHA), Veteran's Administration (VA) or United States Department of Agriculture (USDA) loans. Additionally, community banks and credit unions tend to sell loans to Freddie Mac and Fannie Mae less frequently than the national banks. There is very little difference between the two enterprises.
Will the HARP 2.0 Home Affordable Refinance Program help me avoid foreclosure?
If you are at risk of foreclosure due to a current inability to pay your home loan on time than you will not qualify for the HARP 2.0 Home Affordable Refinance Program. If you are current on your loan but are in need of a smaller monthly payment due a potential inability to pay your mortgage, than the HARP program may help you avoid foreclosure.
If I refinanced with HARP a few years ago, can I refinance again with HARP 2.0?
No, according to the Federal Housing Finance Administration (FHFA) your mortgage cannot have been previously refinanced under HARP to be eligible for HARP 2.0. However, there is one exception to this rule. If you hold one of the handful of Fannie Mae backed mortgages that was refinanced under HARP from March-May, 2009, you are still eligible.
I put down 20% when I bought my home. My home is now underwater. If I refinance with HARP, will I have to pay mortgage insurance now?
No, if you were not required to get mortgage insurance when you bought your home, you will not be required to get MI when you complete a HARP refinance.
I looked into getting a HARP refinance before but it was so expensive. Has the cost to refinance through the HARP program changed?
Yes, the HARP 2.0 program will lower or even eliminate certain risk-based fees depending on the loan program you refinance into.
Does this mean I can refinance for free?
No, unfortunately no matter what loan program you refinance into, you will incur some fees, they'll just be lower than they would've been with the original HARP program.
Can I roll in my associated costs and fees into my loan balance?
Yes, you can roll in costs and fees associated with your HARP refinance into the principal balance of the loan.
Am I required to use my current loan servicer for a HARP refinance? What if my loan servicer is not participating in the HARP 2.0 Home Affordable Refinance Program?
No, you are not required to use your current loan servicer for your HARP refinance though it may be easier to do so because they already have you on file. However, you can use any participating HARP program lender to complete your HARP refinance.
Can I refinance a home that I no longer live in but currently rent out?
Yes, you can refinance your rental that was once your primary home under the HARP 2.0 program.
My loan is underwater and is not backed by Fannie or Freddie. Can I still refinance?
If you currently have an FHA loan (a loan insured by the Federal Housing Administration) or a VA loan (a loan insured by Veterans Affairs) then you may be eligible for a Streamline Refinance if your mortgage is currently underwater. For those with loans not insured by Fannie, Freddie, FHA or VA, unfortunately there are no other programs available for mortgages that are underwater.
Please stay tuned for updates regarding new programs that may be become available for those who loans are not backed by these agencies.
Cornerstone First Financial affirms that when refinancing a consumer's existing loan, the consumer's total finance charges may be higher over the life of the loan.
Cornerstone First Financial serves

:
Washington DC
Maryland
Virginia
Florida
Colorado
Georgia
Cornerstone First Financial offers

:
purchase loans / mortgages
home refinance
debt consolidation loans
reverse mortgage loans
jumbo loans
challenged credit loans