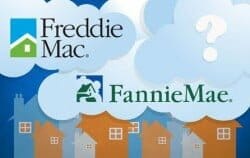 To understand the purpose and requirements of a conforming high balance loan, it is helpful to understand the role that Fannie Mae and Freddie Mac play in America's housing market. These companies exist "to provide liquidity to the nation's mortgage finance system." In other words, they help to ensure that homes can be bought and sold at a quantity and frequency that is healthy for our economy. They do this by packaging home loans into mortgage-backed securities; essentially making the housing market an investment opportunity. The end result is that consumers benefit from loan programs that are implemented to keep the market healthy. The healthy market serves as an attractive investment opportunity, which in turn helps to drive the aforementioned programs.
In order to maintain stability, both Fannie Mae and Freddie Mac have standards and requirements for the loans that they will include in their securities. In 2008, both organizations were placed into a "conservatorship" under the Federal Government. This was in response to the housing market "crash" that occurred at that time. This positioned to the government to support these entities both financially and procedurally. As such, the government provides direction for the standards and requirements of Fannie Mae and Freddie Mac loans on an annual basis. One more thing that is important to understand is that home values vary throughout the country. The same home could have drastically different values depending on the geography and community in which they exist. As such, the limits for these loans are determined at a county level across the country. You can view Current County Loan Limits here.
Conforming High Balance Loan Requirements:
Primary Residence:
– Rate and Term to 90% (LTV/CLTV)
– Cash Out to 75%
Investment Property:
– Rate and Term to 75%
– Cash Out to 65%
Bankruptcy:
– 4 Years for Chapter 7 (from discharge date)
– 2 Years for Chapter 13 (from discharge date)
– 7 Years for Foreclosures (from discharge date)
Need a rate quote? Request a free rate quote here.
CONTACT US to speak to one of our knowledgeable mortgage loan officers or to receive more information on our home loan / mortgage products and services.
Cornerstone First Financial is a home loan lender serving Washington DC, Maryland, Virginia, Georgia, Florida, Colorado, California, and Pennsylvania with mortgage, FHA and VA streamline refinance loans, home improvement loans, HECM / reverse mortgage loans, and more.
That's right! Cornerstone First Financial started in the Washington DC area in 2001, but has grown to serve home buyers and homeowners in Maryland, Virginia, Georgia, Florida, Colorado, California, and Pennsylvania in recent years.