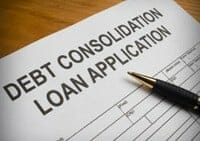 Despite experiencing a reasonable recovery from the economic recession of 2007 – 2009, Americans who carry debt are actually carrying more now than before the recession. We live in a time when the average household has over $15,000 worth of credit card debt, and most of those households will only be able to pay the minimum payment for years to come. Debt consolidation can be the solution to this problem for many people.
The equity in your home can be used to rescue you from this never ending downward spiral, and increase your cash flow by reducing your overall monthly payment. Simply put, you can refinance your current home mortgage to pay off those credit cards and other liabilities.

Benefits of a Debt Consolidation Loan
If you are carrying high balances on your high interest credit cards, you can wrap the balance and your mortgage into one low-interest loan. There are two significant benefits to refinancing your home as a debt consolidation program. The first benefit is that with each payment, you will actually reduce your debt. This happens because the amount of principle in each payment is much greater than it would be with the typical high-interest credit card. The second benefit is that the interest you do pay can actually work for you! While the interest you pay on credit cards simply goes out the window, in most cases the lower interest you pay on a refinance loan will be tax deductible!
Need a rate quote? Request a free rate quote here.
CONTACT US to speak to one of our knowledgeable mortgage loan officers or to receive more information on our home loan / mortgage products and services.
Cornerstone First Financial is a home loan lender serving Washington DC, Maryland, Virginia, Georgia, Florida, Colorado, California, and Pennsylvania with mortgage, FHA and VA streamline refinance loans, home improvement loans, HECM / reverse mortgage loans, and more.
That's right! Cornerstone First Financial started in the Washington DC area in 2001, but has grown to serve home buyers and homeowners in Maryland, Virginia, Georgia, Florida, Colorado, California, and Pennsylvania in recent years.