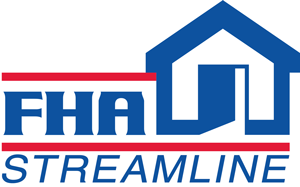 If you currently have an FHA loan on your home, and you are interested in refinancing to simply reduce your payment, there is a relatively easy way to do it. The FHA's Streamline Refinance Program makes it possible for existing, non-delinquent, FHA-insured loans to be refinanced with a reduced amount of paperwork. As long as you meet the basic requirements below, the goal of this program is to simplify the process!
The FHA (Federal Housing Administration) has permitted streamline refinances on insured mortgages since the early 1980s. "Streamline refinance" refers only to the amount of documentation and underwriting that the lender must perform, and does not mean that there are no costs involved in the transaction.
The basic requirements of the FHA Streamline Refinance program are:
The mortgage to be refinanced must already be FHA insured (check your monthly mortgage statement for an FHA number or look at the closing documents from the purchase of your home to verify that it is an FHA Loan).
The mortgage to be refinanced should be current (not delinquent/late).
The refinance results in a lowering of the borrower's monthly principal and interest payments, or, under certain circumstances, the conversion of an adjustable rate mortgage (ARM) to a fixed-rate mortgage.
No cash may be taken out on mortgages refinanced using the streamline refinance process.
Cornerstone First Financial affirms that when refinancing a consumer's existing loan, the consumer's total finance charges may be higher over the life of the loan.
For those with existing FHA loans that were endorsed on or before May 31, 2009, you may be eligible to decrease your Up-Front Mortgage Insurance Premium and/or your Annual Mortgage Premium when you do an FHA Streamline Refinance. This could save you thousands of dollars over the life of your loan!
Need a rate quote? Request a free rate quote here.
CONTACT US to speak to one of our knowledgeable mortgage loan officers or to receive more information on our home loan / mortgage products and services.
Cornerstone First Financial is a home loan lender serving Washington DC, Maryland, Virginia, Georgia, Florida, Colorado, California, and Pennsylvania with mortgage, FHA and VA streamline refinance loans, home improvement loans, HECM / reverse mortgage loans, and more.
That's right! Cornerstone First Financial started in the Washington DC area in 2001, but has grown to serve home buyers and homeowners in Maryland, Virginia, Georgia, Florida, Colorado, California, and Pennsylvania in recent years.