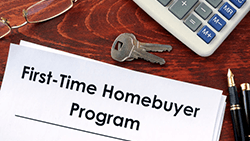 There are several first-time homebuyer programs that offer financial assistance, and you may be eligible for these special first-time homebuyer programs.
Cornerstone First Financial is here to serve you. Purchasing a home – especially for the first time – can be very intimidating. Our experienced and caring team will guide you through the process, and try to make it as easy and understandable as possible. Here are 5 first-time homebuyer programs that are designed to help you obtain a great mortgage to help you purchase your first home!

First-Time Homebuyer Programs
HomeReady® Mortgages™ : Fannie Mae's HomeReady® Mortgage helps address the financing challenges of multigenerational households, such as parents, adult children, and others sharing a home, and low- and moderate-income households.
Learn more about HomeReady® Mortgage →
Home Possible® Mortgages: Freddie Mac's Home Possible® Mortgage offers low down payments for low- to moderate-income homebuyers or buyers in high-cost or underserved communities.
Learn more about Home Possible® Mortgage: →
Make the decision to buy your first home. The process can be challenging but it doesn't have to be when you work with Cornerstone First Financial. They can help you through the entire process — the key is to do your homework and be prepared—whether you're buying a home next year or next month. Work with Cornerstone First Financial to learn more about your options and determine what you can afford, including how much you will need for a down payment. Cornerstone First is here to serve you!  With these government-backed First-Time Homebuyer Programs, we offer competitively low rates! So call or email us today!
More About Fannie Mae & Freddie Mac
Fannie Mae:
Fannie Mae serves the people who house America. They are a leading source of financing for mortgage lenders, providing access to affordable mortgage financing in all markets at all times. Freddie Mac financing makes sustainable homeownership and workforce rental housing a reality for millions of Americans.

Freddie Mac:
Freddie Mac makes homeownership and rental housing more accessible and affordable. Operating in the secondary mortgage market, Freddie Mac keeps mortgage capital flowing by purchasing mortgage loans from lenders so they in turn can provide more loans to qualified borrowers. Their mission is to provide liquidity, stability, and affordability to the U.S. housing market in all economic conditions extends to all communities from coast to coast.

Need a rate quote? Request a free rate quote here.
CONTACT US to speak to one of our knowledgeable mortgage loan officers or to receive more information on our home loan / mortgage products and services.
Cornerstone First Financial is a home loan lender serving Washington DC, Maryland, Virginia, Georgia, Florida, Colorado, California, and Pennsylvania with mortgage, FHA and VA streamline refinance loans, home improvement loans, HECM / reverse mortgage loans, and more.
That's right! Cornerstone First Financial started in the Washington DC area in 2001, but has grown to serve home buyers and homeowners in Maryland, Virginia, Georgia, Florida, Colorado, California, and Pennsylvania in recent years.