WASHINGTON DC, SEPTEMBER 26, 2019 – Cornerstone First Financial is pleased to announce that the company will be the exclusive preferred lender for Bloom Residential in Washington, D.C.
Bloom Residential is a Washington, D.C. based real estate development firm with the core objective of creating seminal buildings through uncompromising dedication to design. Bloom's Rose Condominium project is located at 4017 Davis Place, NW, Washington, D.C. and boasts eight beautifully designed condominiums in the desirable community of Glover Park in Northwest Washington. The project is unique because of the intense focus on efficient execution of luxury design combined with contemplative spatial layouts which include large bedroom units, multiple parking spaces, Porcelanosa finishes and much more.  Bloom Residential Rose Condominiums' target completion date is Fall 2019.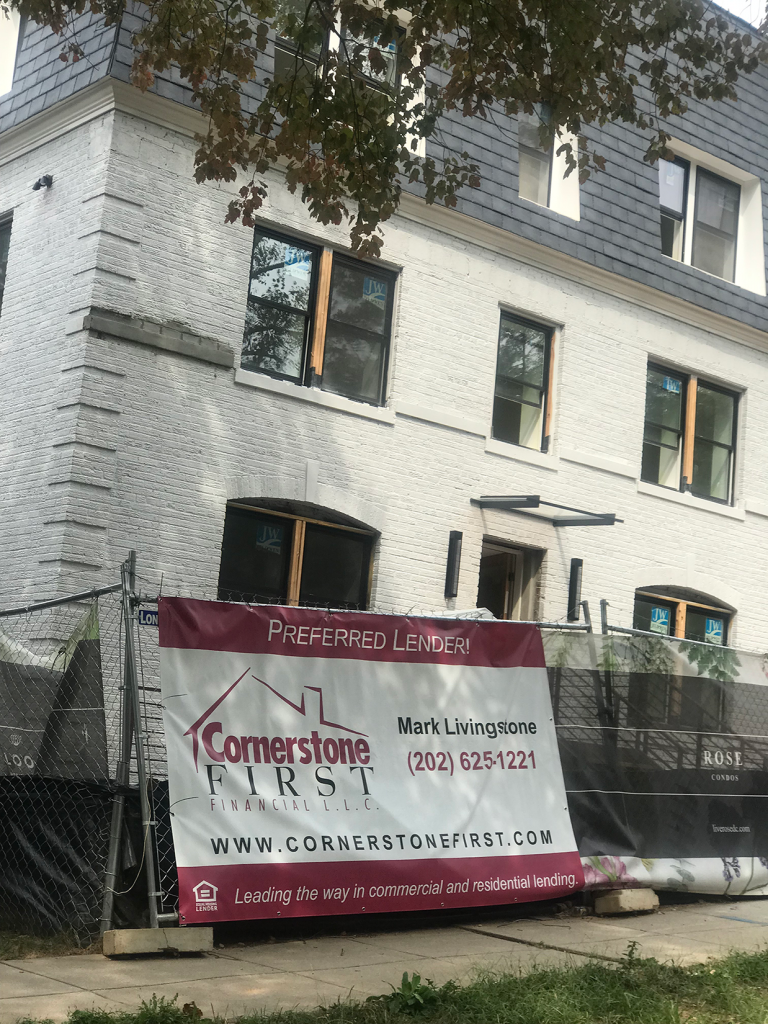 Cornerstone First Financial is a Washington, D.C. based mortgage lender that provides a wide array of mortgage loan products and services.  Cornerstone First Financial President and CEO Mark Livingstone exclaims that he and his company are very excited about the new partnership with Bloom Residential.
"I am very confident that our wide array of mortgage programs will be able to help and satisfy all of Bloom's prospective buyers and we look forward to super-serving these new homeowners," states Mark Livingstone.
Recently entering the commercial financing arena with his own capital, Cornerstone First Financial owner Mark Livingstone made the decision to invest in the Washington, D.C. based real estate developer Madison Investments and Bloom Residential because he recognizes the need and the potential for growth within the boutique condominium development space in the nation's capital.
Livingstone added that this venture was the perfect opportunity to expand his own investment portfolio and his company's partnership group with Madison Investments and Bloom Residential.
"The lack of affordable housing, as well as record low-interest rates, and so many young professionals desiring to live within the beltway made this an easy decision for us to invest in this project with Madison Investments because of their proven track record of success!"
View the official press release at https://www.prlog.org/12791073-cornerstone-first-financial-becomes-exclusive-preferred-lender-for-bloom-residential-property.html
About Madison Investments:
Madison Investments is a family-owned and operated real estate development firm located in the nation's capital, focusing on the renovation and ground-up development of residential and mixed-use properties with an emphasis on luxury design.  Madison is propelled by the vision of its two founders, Sia and Barry Madani, and behind them is a versatile team that fuses expertise with diverse sectors.  Founded in 2006, the firm's management team has worked together in Washington D.C. and its surrounding markets in varying capacities for over 35 years.  The company has delivered multiple award-winning projects. For more information, please visit: http://www.madisoninvestments.net
About Bloom Residential:
Bloom is a Washington DC-based real estate development firm with a core objective of creating seminal buildings through uncompromising dedication to design. The Bloom team has over 40 years of combined development experience over an array of product types bringing a unique design perspective to our projects. Their residential condominium development projects include Rose Condos, Primrose Condos, Sofia House and more. For more information, please visit:  https://bloomresidential.com/
About Cornerstone First Financial:
Cornerstone First Financial is a leading mortgage broker in the Washington D.C. Metropolitan Area. Founded by Mark Livingstone in 2001, this Christian owned company provides residential mortgage solutions to individuals and families who want to refinance their existing mortgage or purchase a new home or investment property. Driven by strong values, consistent work ethics, and the desire to improve lives by creating financial stability, the team at Cornerstone First Financial are eager to help homeowners. Their loan officers are adept at identifying the specific financial needs of each client, whether they are a first-time home buyer or an existing homeowner wanting to consolidate debt through refinancing. They work together seamlessly with the processing department to deliver exceptional customer service throughout the entire loan process. Cornerstone First has aligned themselves with over thirty lending institutions to create the most comprehensive portfolio of residential mortgage solutions and offers the most competitive loan programs and interest rates in the industry. For more information, please visit:  https://www.cornerstonefirst.com/
About Mark Livingstone:
Mark Livingstone has over 24 years of experience in the mortgage industry and has received numerous awards for his professionalism and contributions. He is a member of the Maryland Association of Mortgage Brokers, The Better Business Bureau, and the National Association of Mortgage Brokers. While he has devoted much of the past 18 years to growing his company, Cornerstone First Financial, one of his main passions in life is serving his community as a Firefighter/EMT for the Rockville Volunteer Fire Department. He has been a volunteer firefighter since 2002 and is a Life Member of the Cabin John Park VFD in Bethesda, MD where he was previously a Sergeant. Mark is a graduate of Towson State University with a degree in Criminal Justice and is a real estate investor with a diversified portfolio in Washington DC area investment properties.