Firefighters Helping Firefighters (First Responders and Law Enforcement Too!)
Mark Livingstone and Nick Badalian embrace the brotherhood of firefighters. They have served their community in their careers as firefighters and real estate & financial professionals…and do their best to take care of their own! With over 35 years of firefighting service in the community, both Mark and Nick follow the credo of Firefighters Helping Firefighters and have created an exclusive opportunity for Firefighters, First Responders and Law Enforcement to purchase and finance real estate.
Are you ready to purchase a home or need a mortgage loan? Would you like to receive 20% in commission back from Nick and $750 from Cornerstone First? Complete the form to contact Nick and Mark to get started today!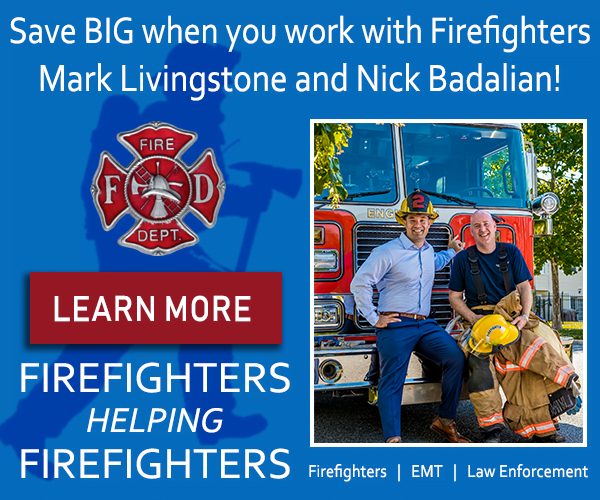 Why Work with Nick & Mark?
Homebuying and mortgage financing is a very challenging process. Nick and Mark can help through it all. Learn about all your options and determine what you can afford and finance.
When you work with Mark and Nick, you'll receive 20% in commission back when you purchase a home with Nick and $750 when you close on a loan with Cornerstone First.
More About Nick Badalian & Mark Livingstone
Nick Badalian, GRI, CDPE
Maryland and Washington D.C. Licensed Broker
Fathom Realty Regional Vice President
Nick Badalian Featured in Chesapeake Real Producers
Nick Badalian began his real estate career at the age of nineteen. While others his age were buying their first car, starting college, or working their first job, Nick decided he wanted to purchase his first investment property. The property was a fixer-upper and Nick's determination and hard work paid off and made his first investment a positive experience, profitable venture, and lifelong career for Nick!
After several investment purchases, numerous transactions, and many successful years as a Top Producer with ReMax and Douglas Realty, Nick decided to take his success in real estate to the next level. The experience of being a seasoned investor allowed a seamless transition for Nick to become a Maryland Broker with Fathom Realty.
Nick is a graduate of the University of Maryland Baltimore County with a Bachelor of Science in Health Service Management and has enjoyed his 20+ year career as a Firefighter for Montgomery County. Nick's personal interests are hockey, football, and he has a huge passion for poker.
Learn more about Nick Badalian.

Mark Livingstone, NMLS# 183229
Licensed Mortgage Lender in DC, MD, VA, CO, FL, GA, CA & PA
Owner & President, Cornerstone First Financial
Mark Livingstone Featured on NBC 4 Washington DC
Mark Livingstone, NMLS# 183229, has over 26 years of experience in the mortgage industry and has received numerous awards for his professionalism and contributions. He is a member of the Maryland Association of Mortgage Brokers, The Better Business Bureau, and the National Association of Mortgage Brokers.
While he has devoted much of the past 18 years to growing his company, Cornerstone First Financial, one of his main passions in life is serving his community as a Firefighter/EMT for the Rockville Volunteer Fire Department.
Mark Livingstone has been a volunteer firefighter since 2002 and is a Life Member of the Cabin John Park Volunteer Fire Department in Bethesda, MD where he was previously a Sergeant.
Mark has been serving Montgomery County for over 17 years and prior to Rockville Volunteer Fire Department volunteered at the Cabin John Park VFD and Bethesda-Chevy Chase Rescue Squad.
Learn more about Mark Livingstone.
Firefighters Helping Firefighters
Follow Our Blog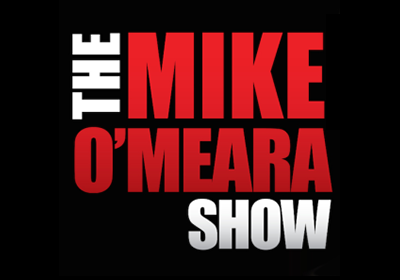 Mike O'Meara: "Cornerstone First Financial has emerged as a leader and educator in the mortgage industry!" "Cornerstone First Financial has emerged as a leader and educator in the mortgage industry and they are committed to keeping up with the latest changes and working with you to make sure you get the best rate and…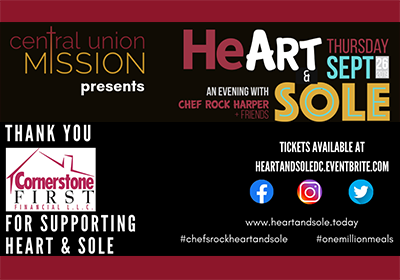 Something fabulous is happening in DC this month and we would love for you to join us! On September 26, 2019, Cornerstone First Financial will be at HeArt & Sole, volunteering to help Central Union Mission provide #onemillionmeals for DC people experiencing homelessness. At 7:00 pm at the National Housing Center, the city's most…