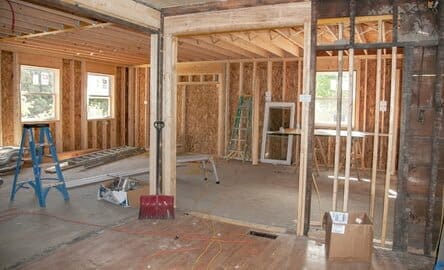 Home improvement projects, whether small or large, can drastically improve the enjoyment of your home. At the same time, investing in these improvements often increase the resale value. We talk to people every day who would like to make some changes to their home. Some seek to update an older house, some to accommodate life changes, and others to raise their property value.
If you are considering upgrading your kitchen, installing hardwood floors, finishing your basement, or even adding a whole story to your house, we want to help! With a home improvement loan from Cornerstone First Financial, projects like remodeling, renovations, and additions can become a reality.

Common Home Improvement Loan Projects:
Kitchen Renovation
Bathroom Renovation
Finished Basement
New Flooring
Remodeling for Home Theater
New Deck or Patio
Attached or Detached Garage
Addition of "In-Law" Suite
Addition of an Above-Garage Apartment
Landscaping Projects
In addition to cosmetic upgrades, some other reasons for a home improvement loan might include functional improvements or repairs. A new roof, window replacement, handicap accessibility and "aging-in-place" modifications are all examples of these kinds of projects.
Cornerstone First Financial offers the most competitive rates for fixed and adjustable home equity loans and lines of credit. These can be used to take cash out from the available equity in your home for a specific project, or simply to give you an accessible cash reserve should an emergency arise. Call us about the best options for your home improvement needs.
Need a rate quote? Request a free rate quote here.
CONTACT US to speak to one of our knowledgeable mortgage loan officers or to receive more information on our mortgage loan products and services, including a home improvement loan.
Cornerstone First Financial serves

:
Washington DC
Maryland
Virginia
Florida
Colorado
Georgia
Cornerstone First Financial offers

:
purchase loans / mortgages
home refinance
debt consolidation loans
reverse mortgage loans
jumbo loans
challenged credit loans