Mark Livingstone is "The Voice" of the Mortgage Industry in the DMV.
After years in the industry and recognizing a need for an ethics-driven mortgage lender, Mark Livingstone started Cornerstone First Financial in 2001. Cornerstone First Financial is unique due to its platform in radio and podcasts.
Starting on the radio prior to the implosion in 2006 and now on over seven stations, Mark learned the radio trade through trial & error. He has succeeded in becoming "the voice" of the mortgage industry in the DMV. Mark has been a volunteer firefighter for 21 years and serves weekly in Montgomery County, MD. Working with first responders and finding that they were under-served in the mortgage arena made it important to Mark in finding programs designed to help these heroes.
Cornerstone First Financial is a full-service mortgage lender with the ability to deliver loans to the settlement table on time with superior customer service. NMLS ID# 292897
SPECIALIZATION AND ACCOLADES FHA, Jumbo, VA, or conventional purchase or refinance. Mark and his team cover it all. Hometown Hero discounts are available.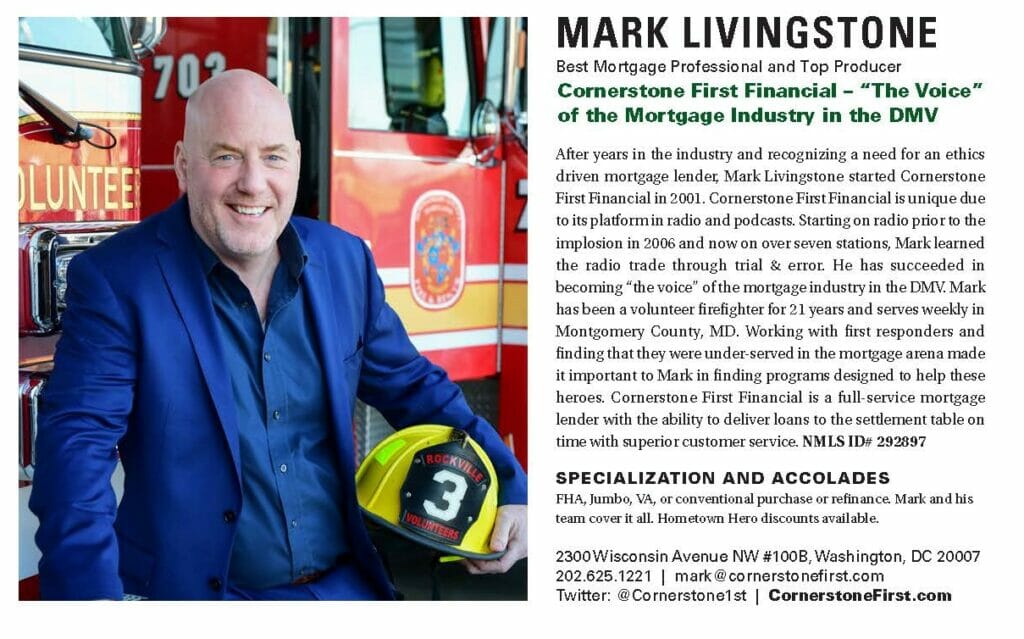 If you are considering a home purchase or home mortgage refinance, please contact Mark Livingstone at 866-625-1221 or email mark@cornerstonefirst.com.
Request a free rate quote now!
CLICK HERE TO REQUEST A QUOTE or contact us by completing the form here: