Suddenly, mortgage broker Mark Livingstone is working weekends and spending his meager free time reading resumes because he needs help handling the crush of mortgage refinancing applications.
Rates for 30-year mortgages are at their lowest since late 2016, sending many previously hesitant homeowners to their brokers. Under normal circumstances, new-home purchases make up 70% of the business at Cornerstone First Financial, Livingstone's Washington, D.C.-based company. These days, it's 70% refinancing.
"It's one of the busiest we've ever been," said Livingstone, a 25-year industry veteran who moonlights as a volunteer firefighter. "I almost don't have the manpower to keep up with it."
There's evidence that part of the reason Livingstone and his broker colleagues are so busy is the shrinking of Wall Street's mortgage units.
Banks let thousands of workers go in recent years, so they have fewer staffers on hand to process refinancing applications.
Read the full report from Bloomberg.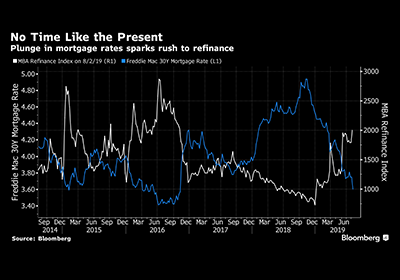 When you are ready to refinance your mortgage, give Mark Livingstone and Cornerstone First a call today to get pre-qualified for your home purchase. We are the preferred lender for first-time homebuyers and have an impressive record of getting clients to settlement on time, as well as pairing buyers with qualified, expert real estate agents!
Cornerstone First Financial serves Washington DC, Maryland, Virginia, Colorado, Florida, Georgia and California for home loans, refinance and debt consolidation.
Call Cornerstone First now 202-625-1221 for the absolute lowest rate guaranteed or complete the form below to contact us today:
og"]