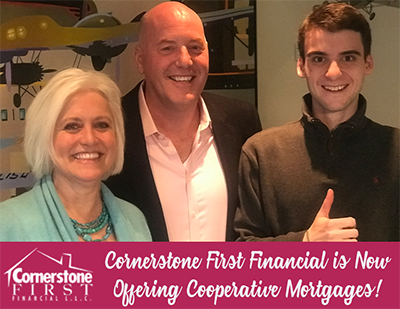 Cornerstone First Financial is now offering co-op mortgages. A co-op or cooperative mortgage is a type of loan that allows the borrower to purchase shares of a housing cooperative. In this type of mortgage, a corporation retains ownership of the property, and residents use their purchased shares to remain in the property.
Depending on the borrower's needs, a co-op mortgage may be more beneficial than a conventional mortgage because the shares can be used as loan collateral.
In conventional mortgages, a buyer borrows money from a financial or housing institution in order to purchase a real physical property that he can put under his name.
In a co-op mortgage, the company or corporation retains ownership of the property and the borrower takes a share loan to obtain a propriety lease of a certain portion of the property that's equivalent to the value of his or her shares in the cooperative.
Cornerstone First is licensed Washington DC, Maryland, Virginia, Colorado, Florida, Georgia and California, and recently financed a share loan on a co-op at the Dumbarton in Georgetown with Tricia Messerschmitt of Washington Fine Properties, LLC.
Mark Livingstone said, "Tricia Messerschmitt helped facilitate the loan from contract ratification to settlement. From working with the borrower to getting the title company on board, Tricia was great to work with!"
If you are looking for a co-op mortgage or co-op loan, contact Mark Livingstone at Cornerstone First. As a lender and mortgage broker, Cornerstone First Financial has the resources available to help you with your mortgage loan needs. We specialize in mortgage loans for veterans.
Call Cornerstone First Financial at 202-625-1221 to get started today or complete the form below to contact us today: