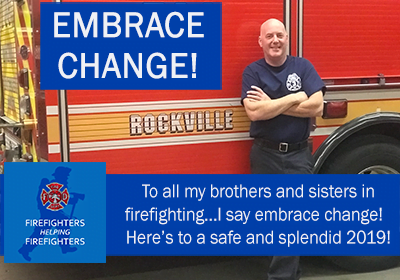 After 16 wonderful years with the Cabin John Park Volunteer Fire Department in Bethesda, I have recently made the decision to join the Rockville Volunteer Fire Department.
I've been the Monday night Sergeant at Cabin John VD for many years and I have also served different capacities on the B.O.D including Treasurer for the eight years.
I have quickly been signed off as Officer on the ambulance, as well as driver and am now focusing my attention on passing the Rockville test to ride 3rd on the wagon.
At RVFD, the calls we run each week are so different and utilize your knowledge of the wagon as well as your skillset and common sense. It is what I imagine riding in an urban setting is like.
At my previous house, there had to be a minimum of two volunteers as career personnel would regularly staff the other spots of the apparatus, therefore, I was regularly relegated to the ambulance.
At RVFD, it is a true volunteer house with minimum staffing of fifteen in order to get the apparatus out the door. You have members in their early twenties driving the heavy apparatus and there is a camaraderie that is unparalleled.
RVFD is the third busiest house in Montgomery County and night hasn't gone by without running a minimum of three calls.
Firefighting is a young man's game and I don't have many years left throwing ladders, humping hose, waking up at all hours of the night, and carrying my gear. I am extremely happy with the decision I've made to grow in my passion, expand my skill set, make new friends, and of course serve the community of Rockville, MD.
I hope my experience can help other firefighters. Although a bittersweet transition, joining Rockville Volunteer Fire Department has been one of the best decisions I have made in my life.
To all my brothers and sisters in firefighting…I say EMBRACE CHANGE! Here's to a safe and splendid 2019!
—
Firefighters Helping Firefighters and Hometown Heroes work together to save our community heroes thousands of dollars when buying and financing their homes!
Firefighter Helping Firefighters honors our nation's veterans and military families by helping them save THOUSANDS of dollars on a home purchase with Nick Badalian of Firefighters Helping Firefighters and Hometown Heroes!
If you are a Firefighter, First Responder, Law Enforcement Employee, Military Service Member (and Veteran), Medical Personnel (Nurse, Doctor), Non-Profit (Charities, Churches), Educator (ISD, College) or Government Employee, learn more about the special programs that Firefighters Nick Badalian and Mark Livingstone have to offer you.
Mark Livingstone and Nick Badalian embrace the brotherhood of firefighters. They have served their community in their careers as firefighters and real estate & financial professionals…and do their best to take care of their own!  With over 35 years of firefighting service in the community, both Mark and Nick follow the credo of Firefighters Helping Firefighters and have created an exclusive opportunity for Firefighters, First Responders and Law Enforcement to purchase and finance real estate.
Are you ready to purchase a home or need a mortgage loan? Would you like to receive 20% in commission back from Nick and $750 from Mark? Complete the form to contact Nick and Mark to get started today!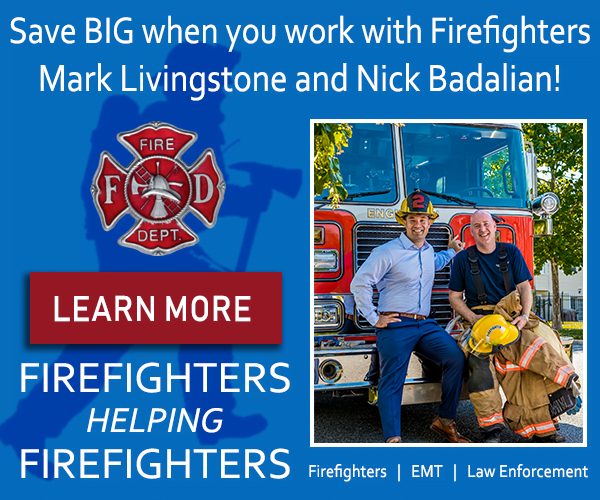 Why Work with Nick & Mark?
Homebuying and mortgage financing is a very challenging process. Nick and Mark can help through it all. Know all your options and determine what you can afford and finance. Learn more about Mark Livingstone, Nick Badalian and Firefighters Helping Firefighters DMV. When you work with Mark and Nick, you'll receive 20% in commission back when you purchase a home with Nick and $750 when you close on a loan with Mark.