Cornerstone First Financial is seeking qualified, licensed, and motivated Loan Officers to join our team of originators.
Cornerstone First Financial is located in the Glover Park neighborhood of Washington DC, this boutique mortgage broker is looking for those loan officers that have a book of business that would like to supplement their loan originations with our "in bound calls."
Cornerstone First has established itself as a leader in the mortgage arena with a heavy media presence, both on radio & television! We offer a competitive pay structure, processing support, the ability to work from home, access to a large database of previous clients, 401k with partial matching, parking, and a knowledge share environment and a name that is easily recognized within the industry!
If you feel you are ready to be part of a team like Cornerstone, then please contact us.
We are looking for dynamic self-starters willing to hit the ground running! You must have a minimum of three years professional experience in the mortgage industry and are currently licensed through NMLS.
Contact us now or send your resume to resume@cornerstonefirst.com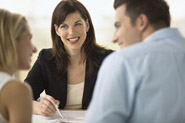 Mortgage Loan Specialists