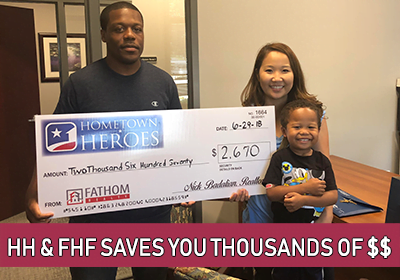 Hometown Heroes and Firefighters Helping Firefighters work together to save our community heroes thousands of dollars when buying and financing their home!
This family saved over $2,600 when they worked with Nick Badalian at Fathom Realty through Hometown Heros.
If you are a Firefighter, First responder, Law Enforcement Employee, Military Service Member (and Veteran), Medical Personnel (Nurse, Doctor), Non-Profit (Charities, Churches), Educator (ISD, College) or Government Employee, learn more about the special programs that Firefighters Nick Badalian and Mark Livingstone have to offer you.
About Firefighters Helping Firefighters (First Responders and Law Enforcement Too!)
Mark Livingstone and Nick Badalian embrace the brotherhood of firefighters. They have served their community in their careers as firefighters and real estate & financial professionals…
and
do their best to
take care of their own!
  With over 35 years of firefighting service in the community, both Mark and Nick follow the credo of
Firefighters Helping Firefighters
 and have created
an exclusive opportunity for Firefighters, First Responders and Law Enforcement
to purchase and finance real estate.
Are you ready to purchase a home or need a mortgage loan? Would you like to receive 20% in commission back from Nick and $750 from Mark? Complete the form to contact Nick and Mark to get started today!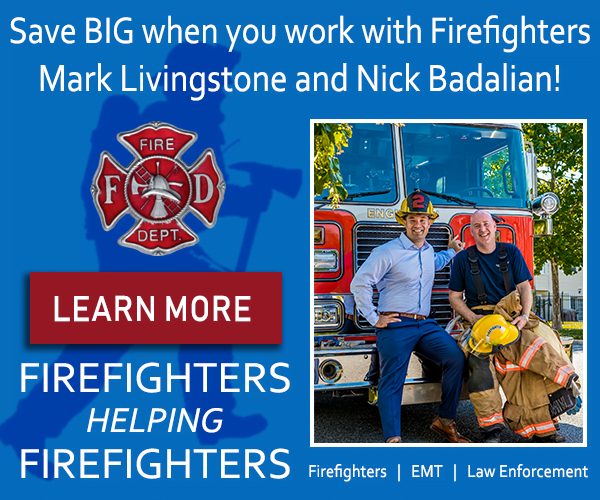 Why Work with Nick & Mark?
Homebuying and mortgage financing is a very challenging process. Nick and Mark can help through it all. Know all your options and determine what you can afford and finance. Learn more about Mark Livingstone, Nick Badalian, and Firefighters Helping Firefighters DMV. When you work with Mark and Nick, you'll receive 20% in commission back when you purchase a home with Nick and $750 when you close on a loan with Mark.